Lilly | Beispiel | Example
Lumbale Meningomyelocele (L1 bis L5) und Hydrocephalus internus, Erst im Frühjahr 2017, als ich mein Manuskript schon weitgehend fertig hatte, kam Lilly, damals 18 Monate alt, zu mir.
Lumbal meningomyelocele (L1 – L5) and internal hydrocephalus. Lilly came to me aged 18 months in the spring of 2017, when I had already almost fi nalized my manuscript.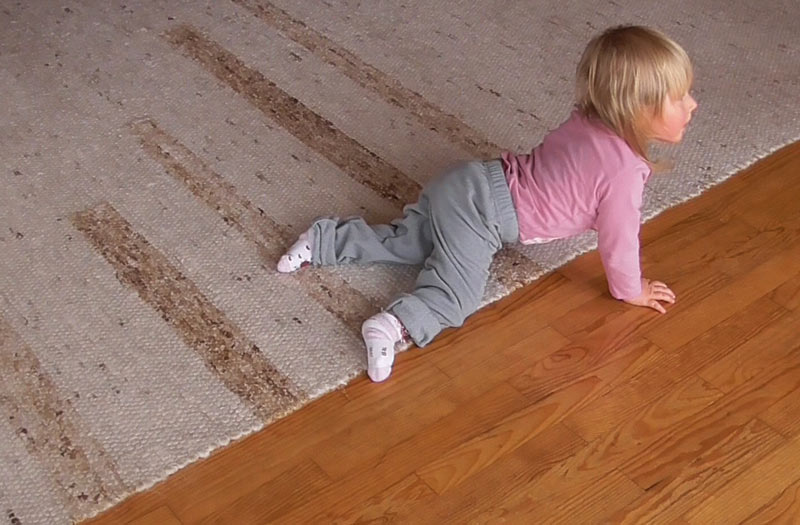 Lilly kommt auf alle Viere (01.12.2017) |
Lilly hat von Geburt an einen kompletten Querschnitt. Nach der Geburt wurde den Eltern von ärztlicher Seite versichert, dass die Beine "tot seien und da nichts mehr käme". Im Juli 2018 wurde sie 3 Jahre alt. Sie bekommt entgegen aller Vorhersagen zum ersten Mal ein Gefühl für ihren Körper und entwickelt unerwarteter Weise viele Bewegungsmöglichkeiten unterhalb des Querschnitts.
Lilly (December 1, 2017) comes up onto all fours.
Lilly had complete paraplegia from birth. After her birth her parents were told by the doctors that her "legs were dead and that was it". In July 2018 she turned 3. Contrary to all prognoses, she began to gain sensation in her body, unexpectedly developing many movement options below the spinal cord defect.